The Fiat Panda - Ideal First Car?
It's hard isn't it? You've passed your
test and you need yourself a car. Of course a lot of people would want a flashy or expensive car. Something to impress their mates or the opposite gender. Something with a bit of Va Va Voom. I don't blame you but that's too obvious though, you don't want that. I'm going to sell you on why you would want yourself a modest Fiat Panda as not only your first car but your car for life, well, until you need something bigger.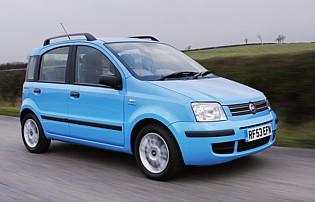 Look at this beauty riding the road. How can you not be enthralled in the design and elegance of this mechanical, automotive wonder? There are angles in all the right places giving it it's own unique style and appearance. This is an achievement in design. I admit I may be exaggerating slightly however I think the appearance of this car is criminally underrated. Why do you want an amazingly stunning, large and sleek motor when you can have a small and nimble one instead? Just think, elderly people enjoy vintage things and 95% of drivers of the Fiat Panda are above the age of 65. Now I've heard vintage is the new modern so in essence this means this is the car to be seen in.
Another major bonus of having a car that is perceived by many to be the chosen motor for the elder and wiser population is no one is going to mess with it or you. The rough people in this world harass the younger individuals and respect their elders. They look to steal and break into the newer cars lining the streets. The knock on effect of this is you're not going to be messed with, you're safe in your little vehicle of joy and comfort. Just make sure you respect your panda back from time to time and keep your guardian angel clean.
Insurance? A fortune normally. Now what I will say is the Fiat Panda is one of the cheapest cars out there to insure. Already one major tick. It's also one of the most reliable motors out there and can run with the best of them. You don't want a claim on your insurance either and this little Italian miracle aides with this also. How can you crash if you can't get up to any meaningful speed? You can't, simple as that. In a squeeze you'd prefer to be a little lad rather than a lumpy load. It's a 5 door as well meaning you can fit plenty of people in and shove some shopping in the back. Sounds like the perfect family car if you think about it. Snow? No problem. It's nippy frame handles it better than most, skimming gracefully over the ice whilst you blast the heating on.
Not only saving you money on insurance this is a very cheap car to buy, especially for a second hand one. I got mine off a smoking lady who could barely walk due to her age. There was a tear in her eye as she said goodbye with the parting words of, "Look after her like she looked after me please." I almost wept myself at this point, it felt like I was tearing a part of her away when I drove off. Not only is the Fiat Panda beautiful, affordable, safe and respected but it is well loved. Something you can't replicate in a modern motor as there isn't the same love or connection there. It's like owning a moving cottage, rustic with plenty of character, rather than a modern penthouse apartment with cold corners a uninviting design.
Finally a car named after the panda, a very cute and adorable animal, is always going to be onto a winner. If you think this is less manly then consider the fact a panda is a form of bear so that means you're riding in a bear. Manly if you ask me.
Only a real man would own a Panda, I do, and any woman would be lucky to own such a cute little car. I'll guarantee you this, you won't be let down. Just look at a review yourself - https://www.youtube.com/watch?v=tHKqatNr0c4. Hopefully this has enlightened you to the beauty of the Panda and you are now rushing to own one yourself.